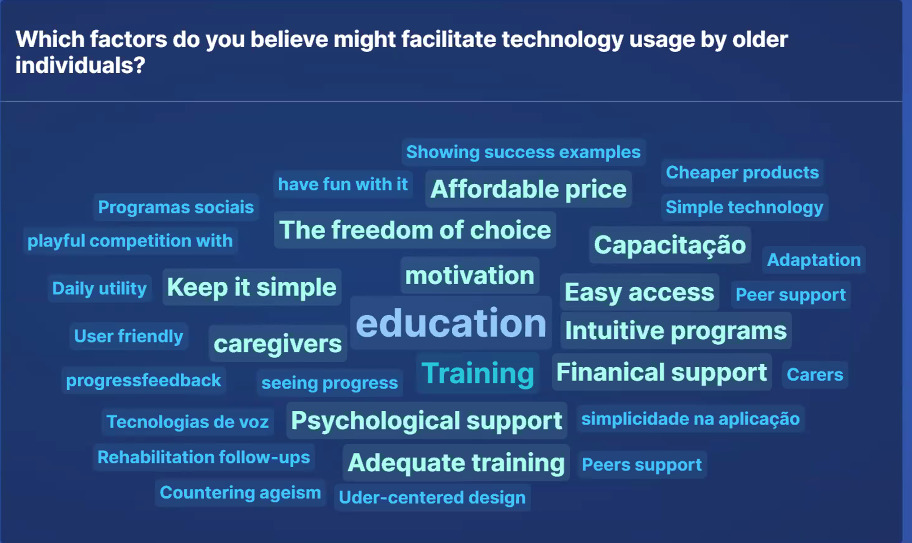 On the 2nd of November 2022, the 6th SHAPES Dialogue Workshop "Approaching the diverse SHAPES digital solutions: Empowering older individuals as custodians of their own health and care" took place virtually. It was organized by the University of Aveiro, Portugal with the support of AGE Platform Europe, and had the following objectives:
Introducing the concept of empowerment and strategies to embrace it;
Identifying the barriers and facilitators to empowering older adults;
Discussing the potential of digital solutions to empower older adults as custodians of their own health and care;
Understanding how SHAPES can make a difference in promoting older adults' active role in health and care decision making.
Event Overview
The event was divided into eight sessions starting with an opening session featuring a brief presentation on the role of technology in the empowerment of older adults.
Key Presentations
After the opening session, AGE Platform Europe presented the results of the SHAPES Deliverable 2.4 – Empowerment of Older Individuals in Health and Care Decision-making.
The next session led by the University of Aveiro synthesized the existing evidence on the effectiveness of digital technologies to empower older adults. This was followed by an overview from the Fraunhofer Institute, presenting the different Use Cases of the SHAPES project and how they contribute to user empowerment.
Interactive Session and Round Table
Videos of users' opinions on digital solutions from the SHAPES project were presented. An interactive activity was carried out, asking participants about the barriers and facilitators to technology usage by older individuals.
During the round table, professionals from various sectors shared strategies and challenges they encounter in using digital solutions to empower older adults.
SmartHealth4ALL Project
The SmartHealth4ALL project was presented by the Siemens Healthineers Project, focusing on its potential contributions towards empowerment.
Feedback and Attendance
Over 100 people participated in the workshop and valuable feedback was gathered from attendees.