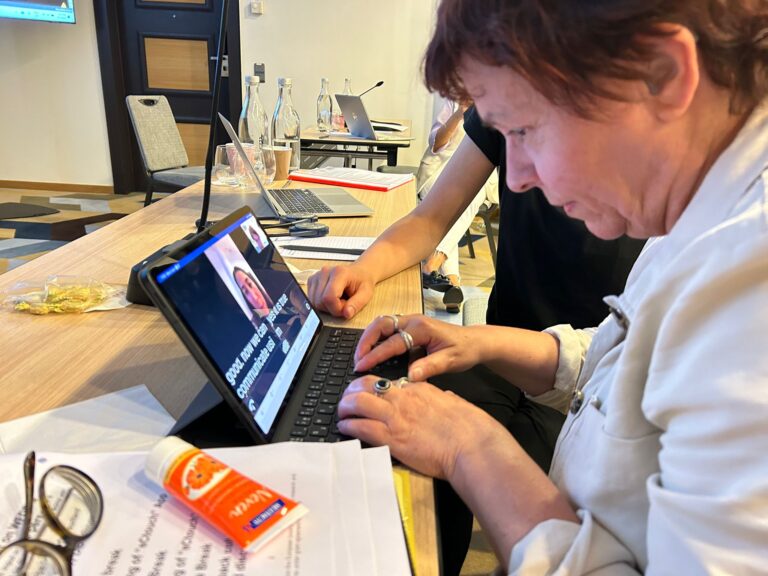 eCtouch by Omnitor
eCtouch App is an accessible total conversation communication software offered by Omnitor. Total conversation means it supports RTT (Real-Time Text), Video and Audio. It is considered accessible since it supports a screen reader software, screen magnifier, braille device and additional alerting technologies (such as flashing light and tactile vibrator when the user has an incoming call).
This software/App is mainly used in Sweden by County Councils and is offered to Swedish citizens that are hard of hearing, or deafblind after consultation with the user's respective county council.
The App is available on iOS (App Store), Android (Google Play), and Windows (Windows Store). The supported languages are Swedish, English, and Greece (on Android).
WFDB 3rd workshop
Omnitor was invited to The World Federation of The Deafblind's (WFDB) third workshop to present the eCtouch App. WFDB presented nine deafblind participants who were supported by their interpreters, from around the world (Croatia, Colombia, USA, Malawi, Finland, Bulgaria, Dominican Republic, Sweden and Spain) to test and evaluate the eCtouch App, as well as provide their feedback in regard to usefulness, accessibility, compatibility.
The workshop started with a presentation by Omnitor, with a brief history of the organisation and the presenters and continued with the idea behind the App and how it is used by county councils in Sweden. This was followed by a presentation on how the App works. The idea was that after the presentation the participants would test the App themselves with assistance from Omnitor representatives, if needed.
The participants eagerly asked questions during the presentation and happily explained how some similar solutions were used in their respective countries. After the presentation, the participants could freely test the App and place calls with each other or with Omnitor/WFDB staff. Omnitor, together with WFDB, gathered feedback and suggestions from the participants.
Further cooperation between Omnitor and WFDB will take place after the end of the SHAPES project in a different initiative starting in October 2023, where the participants will hopefully test an updated version of eCtouch focusing on Braille users, where the participant's feedback and suggestions will have been implanted.
List of useful links