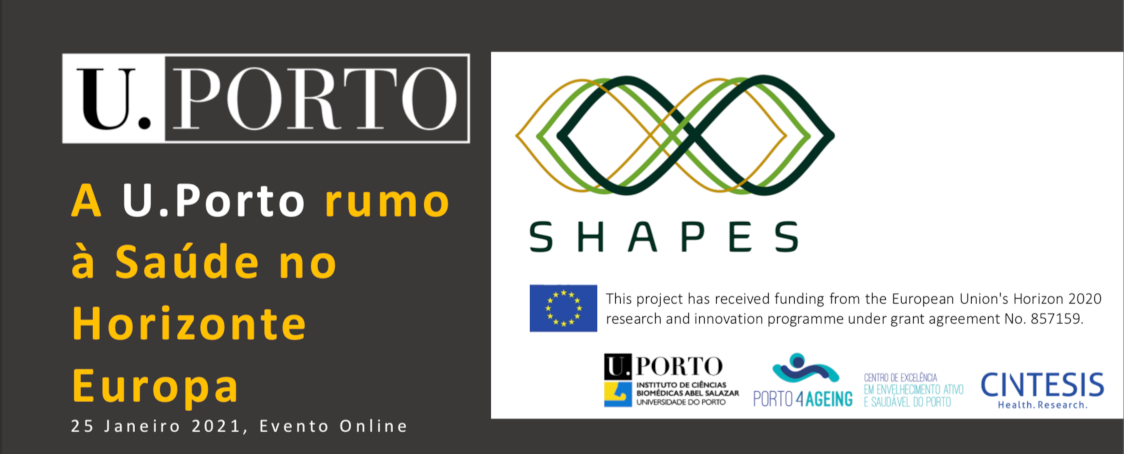 The session "The University of Porto towards Horizon Europe", organized by University of Porto Research and Projects Department, intended to motivate and explain researchers and Professors of the institution how to apply for Horizon Europe projects related to health, the benefits of this programme, and help them create successful applications.
The invited speakers were Professor Pedro Rodrigues, University of Porto vice-rector for Investigation, Innovation, and Internationalization, AICIB (Agency for Clinical Research and Biomedical Innovation) representatives; Professor Elísio Costa, Porto4Ageing Consortium Director and SHAPES member; and Dr Pedro Rocha, SHAPES researcher.
Dr Pedro Rocha talked about SHAPES framework, methodology and results, namely UPORTO's pilots that aim to improve the delivery of care, the management of health conditions and activities of daily living, and the communication and social well-being, as well as to minimize the negative effects of caregiving on the psychological health of informal caregivers of older individuals with neurodegenerative disease. Professor Elísio Costa presented the Porto4Ageing projects progress and how Horizon Europe helped to develop research and results for the Porto's University ecosystem, namely through networking, twinning events, and funded projects. Closing the session, Professor Elísio Costa presented how SHAPES is an example of a successful project of HORIZON2020.